Osmo Hard Wax Oil 3032 0riginal
Code:
2243/0-0
Objem: 0,005L
Skladem
(>5 pcs)
| 2243/0-0
Objem: 0,125L
Skladem
(2 pcs)
| 2243/0-1
Objem: 0,375L
Skladem
(4 pcs)
| 2243/0-3
Product detailed description
OSMO Hard Wax Oil 3032 is a top surface treatment for heavily loaded natural surfaces for maintaining the natural appearance of the substrate. It is resistant to household chemicals and is hydrophobic, which means that it repels water well. Easy paint maintenance and high resistance to scratches and compressive stress. Any stains are easy to remove. Any renovations of heavily loaded or damaged areas are very simple after cleaning and subsequent repainting and without visible different marks. Resistant to coffee, wine, alcohol and cola, resistant to sweat and saliva. Harmless.
Usable for:
Interiors for all floors made of wood, cork, OSB boards,
The surface of the furniture,
Wood on walls and ceilings,
Wooden furniture in bathrooms.
Instructions for use:
The first coating on raw, sanded wood approx. 35 ml/m2.
Surface defects can be corrected up to 30 minutes after the first application in still wet area.
Drying approx. 8-10 hours (in normal climate approx. 23 °C/relative humidity approx. 50 %). At lower temperatures or higher relative humidity, the drying time increases. It is necessary to ensure good ventilation.
If required, the dried coating can be smoothed between coats with fine sandpaper (grain size 400) or Scotchpad.
Second coat approx. 35 ml/m2
Yield: 24 m2/1L.
Be the first who will post an article to this item!
Be the first who will post an article to this item!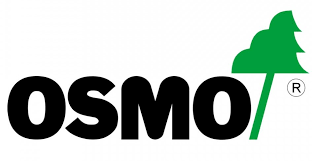 OSMO je německý výrobce výrobků pro ošetření dřeva na olejové bázi. Výrobky jsou určeny pro použití v interiéru a exteriéru. Díky olejové bázi nátěr neprasaká a je velmi jednoduché nátěr renovovat. Výrobky OSMO mají špičkovou kvalitu - OSMO jako jediný výrobce garantuje 10 letou životnost nátěru. Aplikace jsou jednoduché, výborně kryjící i bez základního nátěru s vynikající spotřebou na m2. Produkty OSMO jsou zdravotně nezávadné a šetřící životní úroveň.