Howard Feed-N-Wax
Code:
P83_V445
Váha: 59 ml
Skladem
(>5 pcs)
| P83_V445
Váha: 236 ml
Vyprodáno
| P83_V447
Product detailed description
Howard Feed-N-Wax is a liquid blend of waxes (bees, Brazilian carnauba) and oils (mineral and orange). It is ideal for treating and protecting tables, furniture, antique wood, cabinets, doors. Brings out the wood's natural grain, enhances its shine and protects it from fading, drying and cracking. Feed-N-Wax should be used whenever the wood starts to look faded or dry, usually monthly.
It is only usable only for non-food surfaces – it is not certified as food safe. We recommend Howard Cutting Board Oil, Howard Butcher Block Conditioner or Howard Wax-It-All for surfaces with food contact.
Applications
Make sure the surface is free of dust and dirt.

Apply Feed-N-Wax to a small soft cloth and spread it evenly over the wood surface.

Leave at least 20 minutes before wiping off excess.

Polish with a clean, soft cloth.

Unfinished wood surfaces may require multiple coats and longer drying time (overnight).

Let it dry for at least an hour.
Instructions
Always test in an inconspicuous area to check results before applying to the entire wood surface.

Do not mix with other chemicals.

Wear non-permeable gloves and safety glasses.
Packaging:
Použití Feed-N-Wax na renovaci povrchu nábytku
Před aplikací a po aplikaci Howard Feed -N-Wax
Be the first who will post an article to this item!
Be the first who will post an article to this item!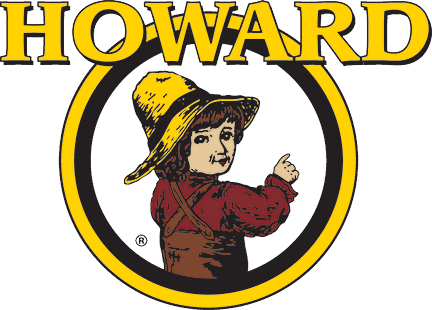 Americká společnost Howard Products byla založena v roce 1969 s "Restor-A-Finish" jako její první "vlajkový" produkt. Restor-A-Finish byl nápad Douglase G. Howarda, když nebyl schopen najít odpověď na otázku: "Jak můžete odstranit vady v povrchových úpravách dřeva a obnovit původní barvu a lesk, aniž byste odstranili jakoukoliv stávající povrchovou úpravu?" Douglas G. Howard se tedy rozhodl na tuto otázku odpovědět. Dal se do práce a vyvinul svůj vlastní produkt; "Restor-A-Finish". Dnes společnost Howard Products nabízí široký výběr produktů pro restaurování starožitností a kvalitní péči o nábytek. Tyto produkty jsou vyráběny se stejnou tradicí kvality, jakou zákazníci společnosti HOWARD za posledních 50 let očekávají. Produkty pro péči o dřevo, kuchyně, kůži a čalounění, péči o kovy atd.